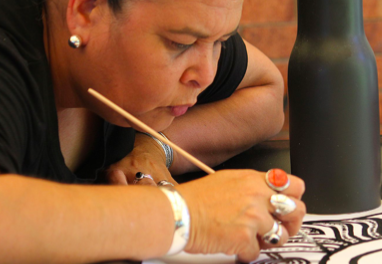 Hi, my name is Elaine Chambers-Hegarty and I am an Indigenous Graphic Designer and Artist - with my cultural links to the Koa and Kuku Yalanji people. 
My parents were both born in Cherbourg Qld, after their parents were relocated there, under 'the act' in the 1900's. Both my parents and my grandparents, are my inspiration! They have always encouraged me to shoot for the stars or to have personal goals, and to always show respect and be proud of my heritage. Their kind and nurturing ways have been a foundation in my life. Family is very important to me, and my caring husband and our amazing daughter, complete my world! I was so blessed to inherit my Dad's creative genes. This artistic ability and my love of computers led me to pursue a career as a Graphic Designer straight after I had finished school. It has been such a wonderful profession and one I have thoroughly enjoyed for the past 29 years. My work has been with News Media for most of those years, winning Newspapers highest achievement award - a PANPA Award for Creative Excellence, and in 2015, l won the NAIDOC poster design competition. But one of my great loves is creating designs for my people. Many of my family are artists, and I am lucky to have inherited the creative flair as well. Always doing well from school in Art, and painting or sketching whenever possible. My greatest reward is in the happy response I receive, when I have been able to translate someone's concept/story into a creation that can be printed onto whatever medium, they want. It makes me proud to be part of bringing their story into a creative design. I love having the chance to pick up the pencil and the paintbrush and paint again and transfer my artwork into creations that can be utilised on multi-media platforms. 
My Indigenous heritage and my generic creative abilities, coupled with years of experience in the graphic design industry - enables me to create something to suit the style of any client who requires some creative guidance.