Outcomes and Calls to Action
The Summit provided a once-in-a-generation platform for agreement-making for First Nations women and girls to come together, raise their collective voice, and determine the way ahead. First Nations women have put their calls to action in the Summit Communique and Youth Statement, and are calling on governments to recognise and invest in the mechanisms that will enable their voices to pave the way for a future that all Australians deserve and have a right to. 
Image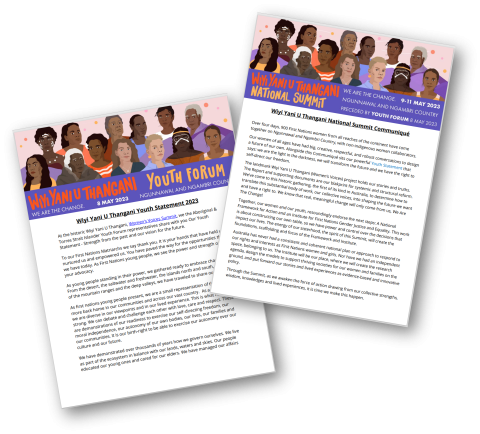 Explore the program & watch recordings of key sessions
Summit Sponsors
The Wiyi Yani U Thangani Project and Summit is funded by the National Indigenous Australians Agency (NIAA). The Summit was also supported by Indigenous Business Australia, Westpac, Telstra, Rio Tinto, The Fred Hollows Foundation, and PriceWaterhouseCoopers Indigenous Consulting, and by media partners SBS & NITV.
Image